Five minutes with Country Music Duo Gasoline and Matches
Before our Gasoline and Matches interview, we would like to congratulate Sally and Steve; following their fantastic performances at TBCMF, they flew to the USA and Steve proposed to Sally on stage at a Butch Walker gig in Nashville, Tennessee.
Gasoline And Matches are are a high-energy, guitar-driven, British, country-rock duo, hailing from the West Midlands. With Sally Rea Morris on vocals and guitar, and Steve Marks on vocals and lead guitar, they share song-writing duties. Two-time British Country Duo of the Year and Birmingham Music Awards Best Folk/Country Act, their first single Fool's Gold' reached No.1 in the UK iTunes Country Chart. Their cleverly constructed lyrics and close harmonies, matched with melodic guitar licks make them one of the leading names on the UK scene. Gasoline and Matches host Nashville in The Round at Birmingham's Symphony Hall.
We caught up with them backstage at TBCMF and got an insight into their thoughts on the UK Country music scene.
When did you first know you wanted to be musicians?
Sally: For me, I always loved performing in any capacity when I was a kid, I just liked always putting on a perfromance.
I wanted to learn guitar when I was about six; I'd been to stay with some family, and they had a guitar there. I'd picked it up, and my hands were a bit small, and I couldn't quite play the chords. My dad actually bought me a guitar at that point and taught me a few bits and pieces.
I was about 12 or 13 when I started writing songs. I guess that's when I started getting into some of my biggest musical influences now.
Steve: I can tell you exactly when it was July 1985. I went to the cinema to watch a film called Back To The Future with my parents. And I knew right then that I wanted to play the guitar.
How did Gasoline and Matches first form?
Steve: Sally ran a successful open mic event in Birmingham, and I had just left a band that I was the frontman of and a guitar player. I was looking for something else as a challenge.
We started doing a few covers together, and our harmonies worked quite well. We did a little demo of some of Sally's songs before she moved to America. But it wasn't until Sally returned to the UK that we really started talking more seriously about music and forming a band.
But one thing that I think is really interesting for people to know is that the band and the band name were forged while driving around America, specifically Tennessee. I think it's quite a unique story, but we were out there doing some performances and that's when we really decided this is what we're going to do.
Amy Wadge
Sally:  We recently had a full circle moment in Blackpool when we saw Amy Wadge headlining the festival.
When I saw her playing at the festival, I looked into who she was; I didn't know that she had co-written 'Thinking Out Loud'. Steve and I had flown to America together to specifically sing that song at my friend's wedding. So I told Amy the story, backstage. I explained that she kind of formed our band, really, because we were forced back together again to go and perform that song.
As for the name Gasoline and Matches, we were driving, listening to the Nashville soundtrack. There's a cover version of Gasoline and Matches the song on that, and it came up on the car dashboard and we said that it would be a really cool name for a band. It just stuck from there.
How does the songwriting process work for you? Are you both heavily involved?
Steve: Sally will often be writing lyrics and ideas down on her phone.
I come from a musical place to begin with, like a feeling, a texture in the music. When I write, I generally write the whole song, and then Sally will strip it apart and make it loads better lyrically.
Vice versa, Sally will write a whole song, and I'll make it musically more intriguing and interesting.
Sally: I write so many songs with the same chord progression, but I can hear a different melody or even sometimes just putting a capo and moving the same chord progression up to a different key; I can suddenly hear a totally different melody.
I get inspired sometimes just by conversations I've had with people, where someone might touch on something that I think is a really good way of looking at that topic or it sparks an idea.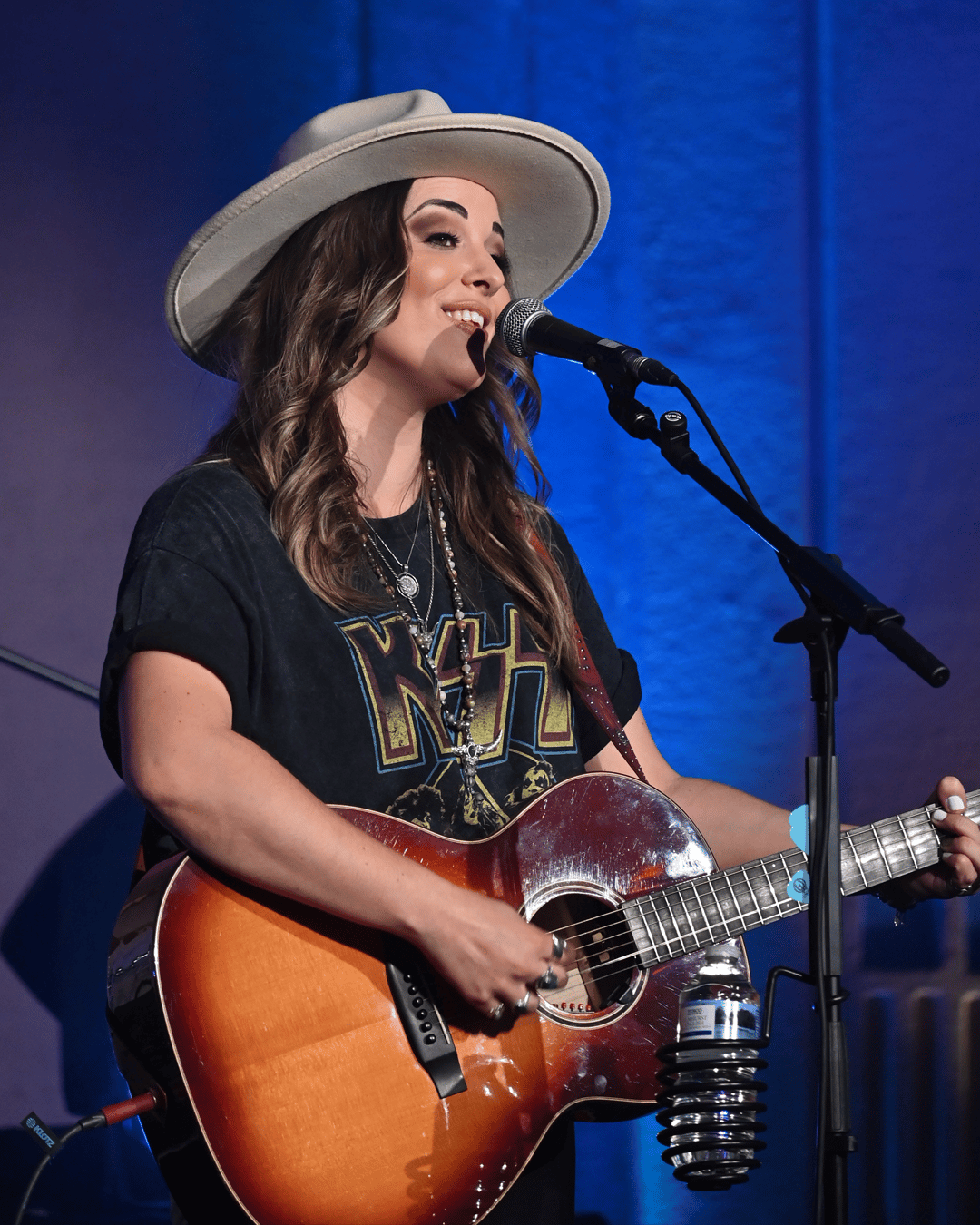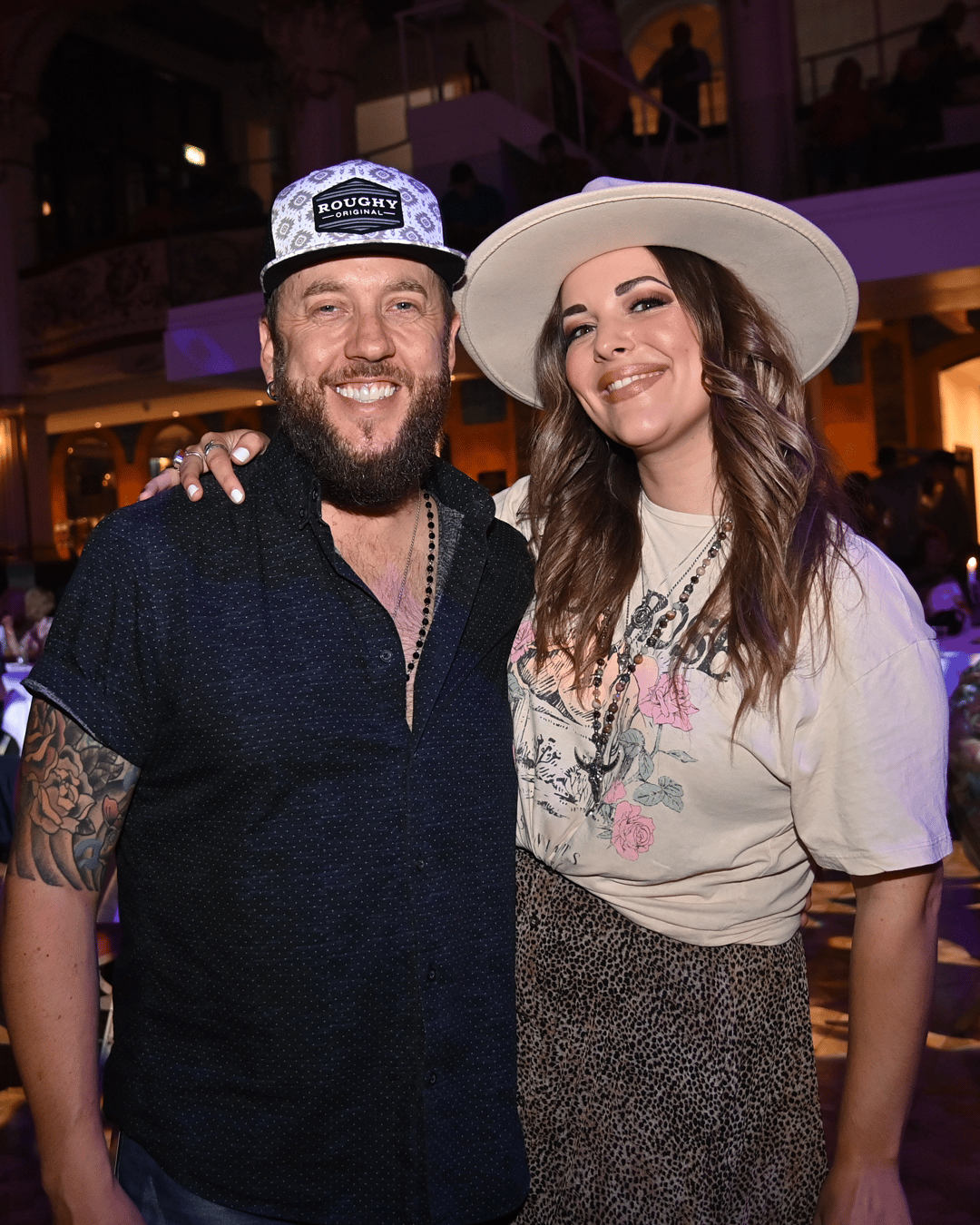 Can you tell me about your experiences in the British Country scene? We hear some fans saying they won't listen to British artists because country music is supposed to be American, what are your thoughts on that?
Sally: I don't think Steve and I are writing music any differently to what we've ever done. It's the exposure to how many American artists now come over to the UK that may have changed our taste a little bit and influenced us. But I think we found it an overwhelmingly positive experience because we've both been playing music for so long.
But this is the first time for both of us that we've seen the support from this scene. So, I love that we could play a show in Scotland or London and still see familiar faces. I love the support that is there for country music.
In a lot of ways, it is an American genre. But I think that's where you can go wrong if you try and imitate something.
So, I think we stay true to writing about what we know, we take some influence from American sounds, but then America originally took influence from British sounds. It's like transatlantic tennis with music. So, we're just hitting it backwards and forwards.
Steve: I think it's very, very special to be part of a scene. To be able to do all the festivals we do with all the artists performing. It's really special. It's like a travelling circus.
Sally: We've had the most success with our song, Never Have I Ever. I sound so British in the delivery of that vocal, and that was the song that got us the most attention from the likes of Baylen Leonard and Bob Harris. They really took notice of us with that, and I think it's because it was country, but you can absolutely tell we're British on that song, and I think it's really important.
We saw you play a couple of sets at The British Country Music Festival this year. What does that Festival mean to you?
Steve: I can start by saying that we have so much gratitude for all the organizers of the festivals in the UK, especially the British Country Music Festival.
The venue itself is absolutely jaw-droppingly wonderful.
To be able to perform your own songs on a stage, specifically on that Sunday morning when it was a full room and everybody was nursing a hangover. It just felt very special.
Sally: I've been to every one of the festivals they've done in Blackpool. It's been really nice to see the festival's progression and how it's starting to build.
I think they're very clever with how they put the line-up together. In terms of not picking all the obvious musicians you see at some of the other festivals makes it a little bit of a different experience for the audience.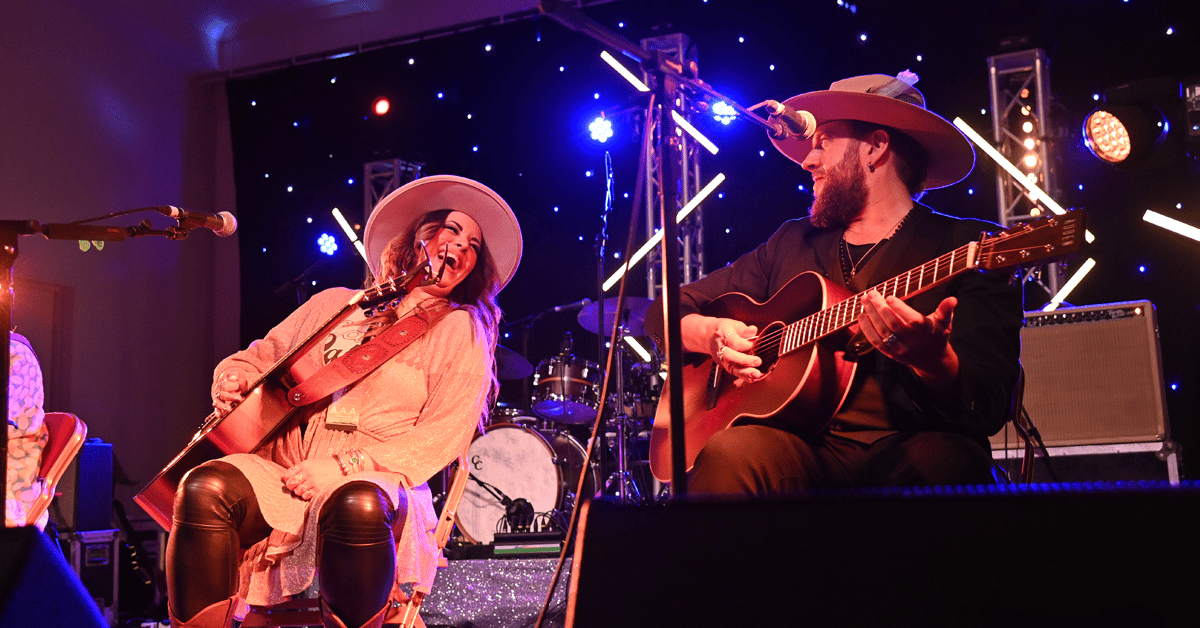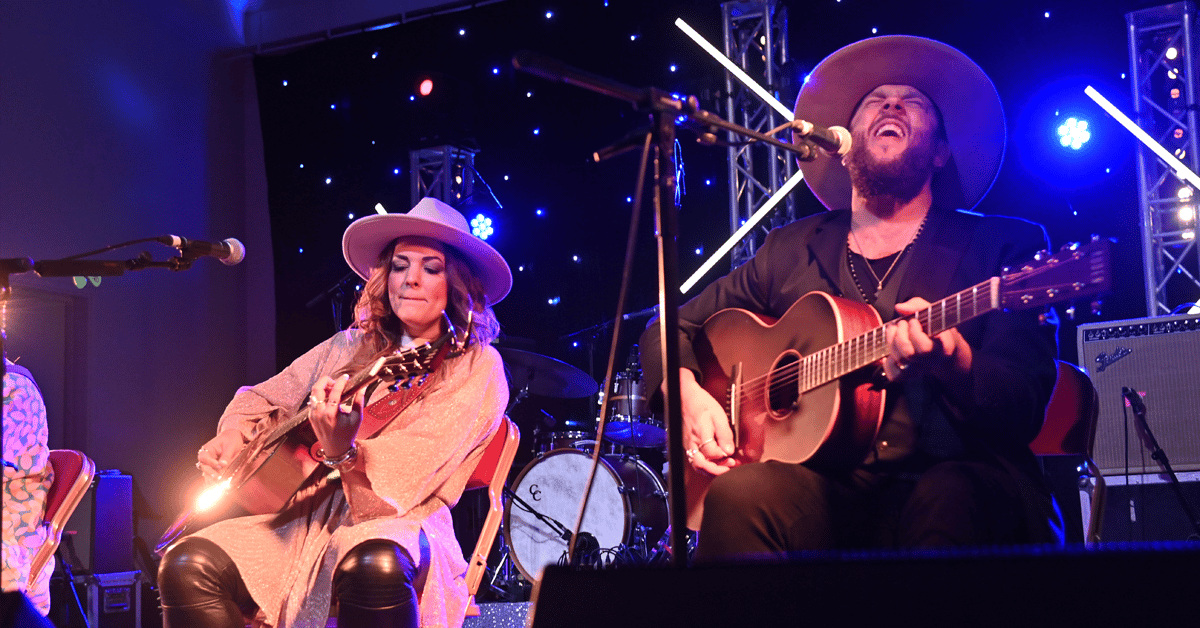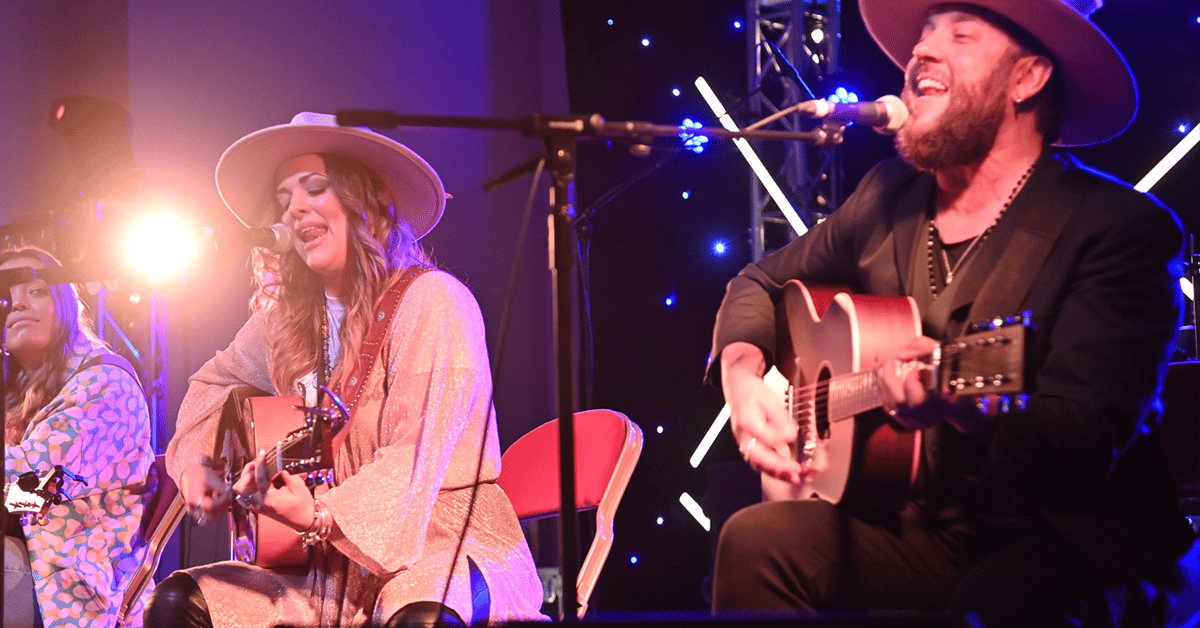 UK Country Duo Gasoline & Matches. Photographs by Dave Nelson
A DEEPER DIVE INTO UK COUNTRY & AMERICANA
We are developing a history of UK country music and the effect the British Isles have had on American country music.
Click the link to our article  The Origins of Country Music, the first in a four-part series exploring country music in the UK. Delve into our history and influence on the birth of country music.
Frequently Asked Questions, advice on tickets, timings, travel, accessibility  accommodation, festival details for The British Country Music Festival