Mad March
For UK Country fans, March really is our month, in so many ways it's the start of the country music calendar, kicking off the festival season with Country 2 Country. But it's not just the British artists at C2C that we have to celebrate this month, there have been a number of brilliant albums and EPs released, tours announced and another fabulous festival line-up revealed.
Shining In The Half Light
At the end of last month, Elles Bailey released her album 'Shining in the Half Light'. She has forged a career as an independent artist that is to be applauded and admired.
This month it was announced that she would be going out on tour with none other than Don McLean. The Songwriters Hall of Fame Don McLean inductee, best known for his 1971 hit 'American Pie' will be touring the UK from September 11th through to October 4th and Elles Bailey, accompanied by her full band will be opening the shows.
She has also been nominated for a number of awards and has a number of festival appearances booked in the diary.
C2C Festival
There were twenty homegrown artists announced to play C2C Festival this year from the country and Americana world. They played several sets across the weekend on various pop-up day stages dotted outside the arena.
It was Kezia Gill who drew the biggest crowd though, with security staff having to close access to the Town Square area whilst she was on due to the audience that had gathered to see her set.
Borrowing The Shires band, Gill, with her powerhouse vocals and thoughtful and emotive lyricism captivated the crowd.
KH & HK
There were a lot of artists performing at the festival that lit up our stage in Blackpool last September; Tim Prottey-Jones has released new music since then and it was a highlight to see that in a live setting.
Meanwhile, the names on everyone's lips on the Sunday were Katy Hurt and Harleymoon Kemp who both performed stellar, energetic sets.
For me, Harleymoon Kemp is one of the scene's most exciting artists, having been raised on music, in the limelight, she is bringing something fresh to the genre.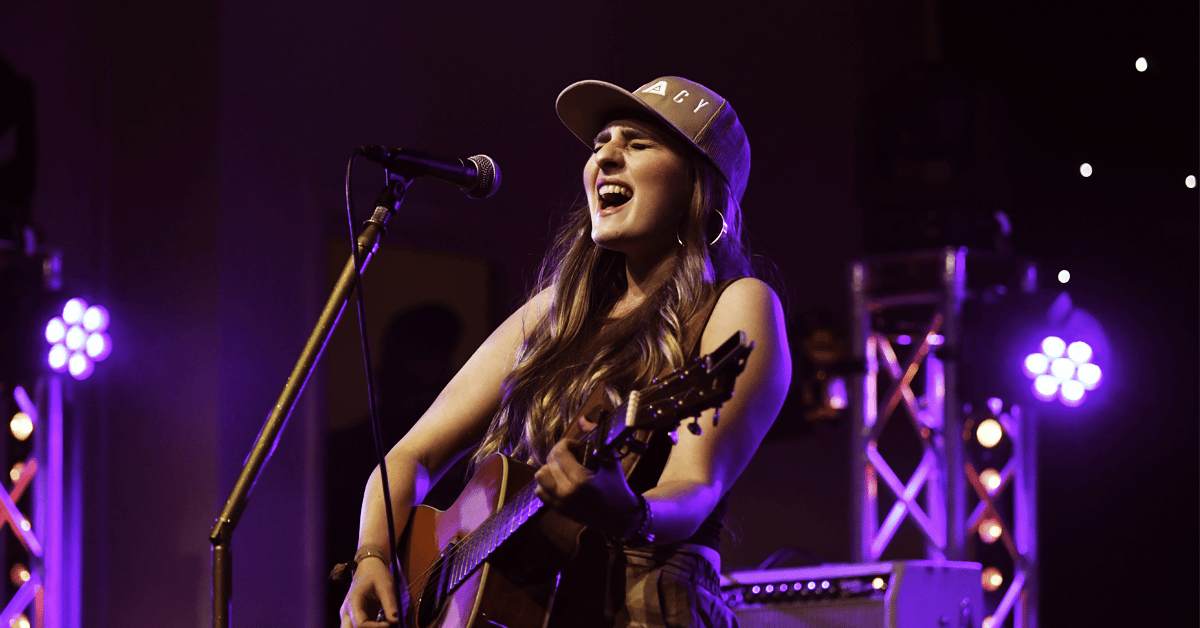 Katy Hurt captured by our TBCMF photographer Dave Nelson at TBCMF 2021
Honky-Tonk
Catherine McGrath, the third UK country act to get a major label deal, was also performing at the festival. Her understated, stripped back performance which drew a crowd of loyal fans, no doubt won over some new fans as well.
There were a couple of artists that had flown under my radar before they were announced for C2C. One such act was brothers Eric and Jensen who had a few covers up online prior to C2C but have quite the journey ahead of them.
They have an organic sound and brought a little bit of Honky-Tonk to the O2 during their set. We're really looking forward to hearing what these boys have to offer in the future.
Shires Award
One UK country act that wasn't on the bill prior to the festival was The Shires who released a brand new album, '10 Year Plan' on the Friday, March 11th.
They were hosting the Spotlight Stage in the main arena at night, introducing all the artists that were appearing there, from Erin Kinsey to Avery Anna, Seaforth to Breland.
However, they surprised everyone on the Sunday by doing a set on the BBC Radio 2 Stage. After filming earlier on in the day with This Morning's Josie Gibson, she joined them on stage to play the tambourine in front of a full house in the Indigo. It was shown on This Morning the following week and on the Friday it was announced their album had got to number 5 in the official charts.
The Shires' achievements were celebrated when they were presented with the Country Music Association's Jeff Walker Global Country Artist Award, for furthering the popularity of country music throughout the UK.
International Country Network
The British Country Music Festival organisers Martin and Marina were invited by CMA international Chief Milly Olykan to a special industry network meeting at C2C.
Milly explains to Music Week "We use C2C as a connector and a converter. Our UK and EU industry network will meet there, along with industry over from Nashville. As a country music network, it's our joint responsibility to utilise C2C in bringing together influential gatekeepers and have them won over by the music, the engagement and surprising demographic of the fans – younger and more diverse than perceived – and also how proactive and committed we are as an industry community."
She continues "As a trade association for a genre, we have developed a strong international network that we pull together regularly in order to proactively identify how we can increase the profile of our genre and reach a wider audience. So C2C is incredibly important as a key calendar moment for us."
According to Music Week research, UK streams of tracks classified as country by the Official Charts Company increased by 2.5% year-on-year to 1.4 billion in 2021. That result compares to a 6.4% year-on-year increase for total audio streams.
Milly is optimistic about the increasing reach of country.
"Country music is one of the fastest growing genres in the UK," she said. "Streaming during the Covid years 2020 and 2021 has been particularly strong with growth in every quarter versus the prior year and this is driven by a combination of factors. The UK country fan is served well by streaming services and country radio.
Bob Harris and Head of Station Helen Thomas shared BBC Radio 2's on-going play-listing continues to help country music reach a wider audience."
Country Girls
Meanwhile, there were a number of US and Canadian acts that impressed both inside and outside the arena and one such artist who has been on our radar for some time now is the incredibly talented Jess Moskaluke.
Last year, the Canadian released an album called 'The Demos' which saw Moskaluke dig back through her back catalogue and virtually work the songs up with producer Corey Crowder during the pandemic.
It features the Canadian number one 'Country Girls' and a whole host of talented Nashville songwriters from Liz Rose to Emily Shackleton have writing credits on the record.
TBCMF
Just after her performance at C2C we announced that she'd be performing in Blackpool at the British Country Music Festival in September.
That brings me nicely onto the biggest news of the month – The British Country Music Festival line-up reveal! The festival takes place at the Winter Gardens in Blackpool in the most beautiful rooms and nurtures and champions homegrown talent in an unprecedented fashion.
This year's line-up features some familiar fan favourites such as Tim Prottey-Jones and The County Affair. Lucy Blu, who was invited to perform Wagon Wheel alongside Darius Rucker at the O2 on the Saturday of C2C, will also be performing at our festival but there are some very interesting talents sitting at the top of the bill!
Tom Odell
Top of the bill is Tom Odell, the 31 year old burst onto the scene in 2012 with global hit 'Another Love'. In March he sang an emotional version of this song for the Concert for Ukraine. Although much more an indie folk artist he's a fantastic lyricist and composer and offers something slightly different to the artists we've featured before at The British Country Music Festival.
Tom's song-writing is deeply personal and relatable, as he gives us a glimpse into his own struggles and stories, a classic characteristic of country music.
Also headlining is Amy Wadge who has penned songs for the likes of Keith Urban, LeAnn Rimes and The Shires but perhaps is most well known for her collaborations with Ed Sheeran including smash hit, 'Thinking Out Loud'.
She has also written this year's song for Eurovision which will be performed by Sam Ryder.
Lucy Spraggan
Also taking to the stage will be Lucy Spraggan who again came to the forefront in 2012 as she impressed judges on the X-factor (in fact, I voted for her week in, week out!)
Since, she has performed at SXSW, Glastonbury and the Isle of Wight Festival. She's a conscientious songwriter who has addressed sobriety and mental health in her lyrics.
We have various stages that will each introduce festival goers to a different flavour within the scene; Laura Oakes will host a songwriters carousel whilst Kezia Gill will exclusively play some unreleased songs on the acoustic stage.
The Storytellers
It's going to be a fantastic weekend which truly celebrates the amazing storytellers we have within the country, Americana and folk scene in the UK and over the next few months we'll get to know some of these incredible artists and their music a little better!
TBCMF's
New Country & Americana
Playlist
P.S. In March we also created a new Spotify playlist to directly help UK artists of newly released music covering country, Americana and roots, to represent how contemporary songwriters are pushing the genre.
We will share and update the playlist on a weekly basis, please like on Spotify as this helps it to be found and in turn directly helps the independent artists featured.
Hero Image: Kezia Gill captured by our TBCMF photographer Dave Nelson at TBCMF 2021