We had the pleasure of talking to Chantelle and Chris of The Rising. In this Getting To Know The Rising article, we discuss what country music means to them, who the band admires, and how excited they are to play at TBCMF.
Chantelle and Chris tell us the story behind the latest song, When You Were Mine which will be featured on their new crowd-funded album.
The Rising will be bringing their brand of country-rock to The British Country Music Festival in September.
How did The Rising first form? Where did you meet?
There are kind of two histories with The Rising. Initially, the band was formed in 2012 as a four-piece band. We released several singles and one album in 2014 called Coming Home. However, during a UK Tour, it became clear that the singer didn't want to do music anymore. So, I called Chantelle mid-way through the tour and the next thing we knew Chantelle joined the band.
Shortly after, we slimmed down to a duo and now use session players to fill out the band.
I first met Chantelle when we both happened to be in a Dolly Parton tribute act. But it wasn't until I heard Chantelle sing her own music at an open mic night (around 2014), that we really clicked.
We initially started writing songs together for The Rising project (before Chantelle became lead singer) and for other artists. So, when the original singer started to drift off it became an obvious choice to bring Chantelle in.
After all, we were writing and demoing the songs together and bringing them into the band anyway. We announced the new version of The Rising in 2016 at Country 2 Country where we played several shows throughout the weekend.    
Your DIY musicians which I really admire, how difficult is that to manage the creative aspect as well as the business side of it?
To be honest, we are fiercely proud to be independent/DIY artists and we take pride in the fact that we write, record, and produce our own music. But, sometimes trying to balance the multiple sides of being an independent musician can make the joy we normally find in music and being creative, fade away.
Becoming more like a chore, where you are doing things because you have to meet a deadline rather than for the love of being creative.
This became especially prevalent when we adopted a strategy of releasing a single every 6/8 weeks from 2020. At times it was super stressful trying to meet the deadlines. But overall, we actually found that it allowed us to further focus and develop our songwriting and musical skills.
Simply because we weren't spending months agonising over one song. We feel that we have grown as writers and artists.
What have your experiences been like in the UK country scene?
Ooh, this is a tough one. We could write a book on this one. But seriously, we feel that the UK Country scene is very much a niche market.
It had a boom period for a while there. But, in a way, it has kind of levelled out and the scene has kind of hit a glass ceiling. We feel that a lot of this is due to the large value gap that exists between how UK audiences view UK acts when compared to US acts.
UK acts seem to be perceived to be as somewhat inferior. You can see this clearly illustrated on Facebook groups all the time when UK artists, including ourselves, will post up about a gig or a new release. It will generally be met with little or no engagement. Whereas a similar post about a new small or mid-level US act will generate tons of engagement.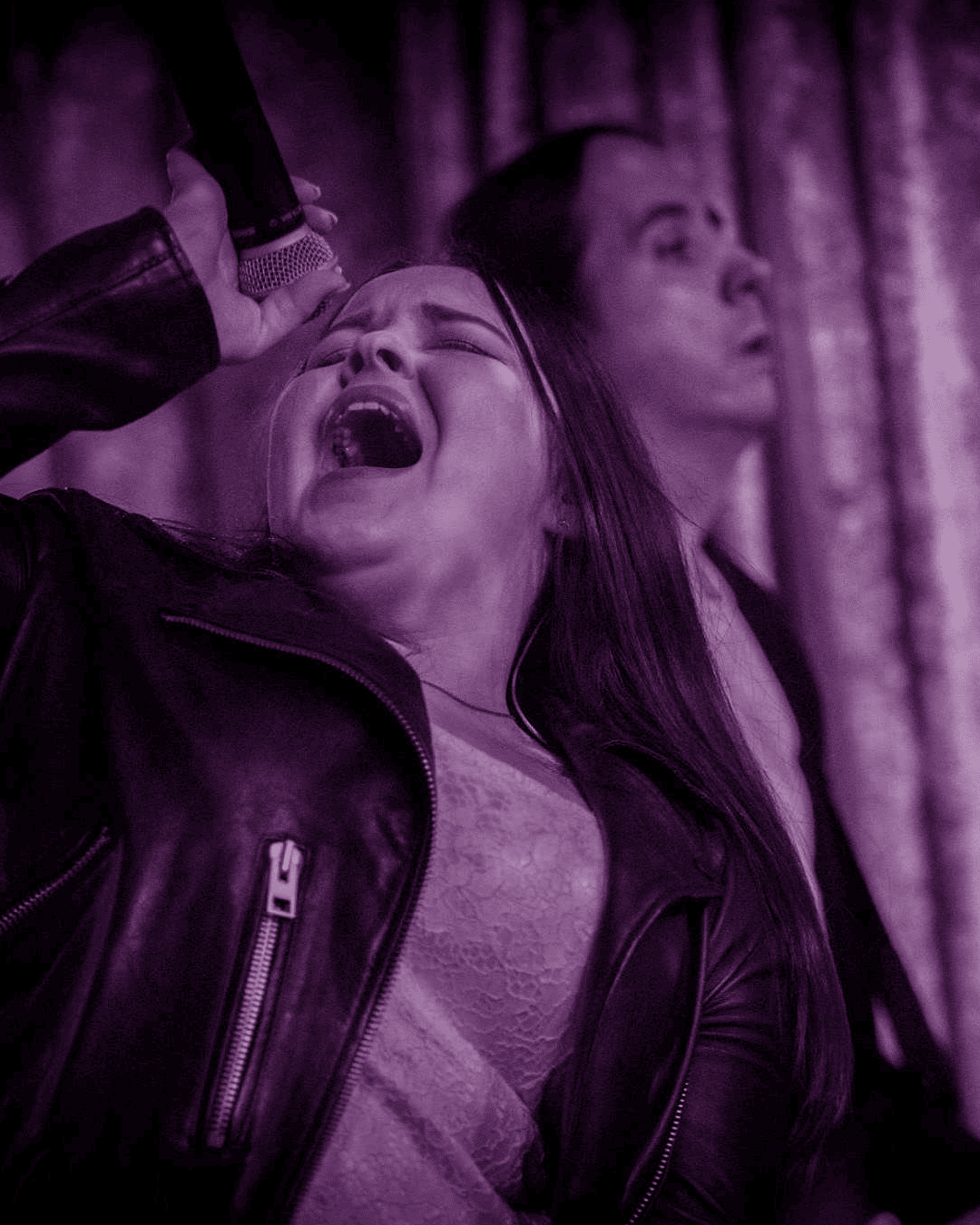 Tell me more about why you decided to crowdfund for the next project and what it means to you both that your fans came together to help you with that?
The crowdfunding idea came about for two reasons.
Firstly, the most honest answer is simply out of necessity. As a completely independent act with no label or management support, we have to fund everything ourselves. This usually requires working lots of part-time jobs on the side to raise the funds needed to achieve a certain task. Be it gigging, touring or recording an album. In this case, we managed to raise quite a bit of the capital needed. But, we needed help to push it over the line i.e. get the vinyl records pressed. 
Secondly, we love sharing what we are doing and don't believe in the 'big reveal' of keeping secrets. We like to share everything with our followers. So, we thought that by getting them involved in a crowdfunding project we could offer things that wouldn't normally be possible. Such as getting their name on the artwork or getting handwritten journals and lyric books.
We also have a portal for everyone who supported the project where we upload videos etc. of us making the record. So it's a very interactive process.
It was so amazing to see the generosity of the people who supported the campaign. Many of whom gave above and beyond to the project.
For that, we are eternally grateful to them. The cliche of "you're nothing without fans" has been well and truly brought home to us. 
How is production for the project going?
Thankfully, we have our own commercial recording studio, so we are able to record songs as soon as we write them. Many of those songs are also written using the studio, be it a drum loop or something that inspires the song.
At the moment, we have about 20 songs fully recorded and about 15 partly recorded. So, we have a lot of material to choose from, but we want to keep writing for a couple more weeks before we set a deadline on the project.
We want the album to sound like a cohesive whole and have a story arc running through it. So, we are being very careful when it comes to choosing tracks that work together.
We had planned to release an album in July 2020 but as soon as the pandemic hit we knew that we would have to take an alternative course. This gave rise to the constant release of singles throughout 2020 – 2021 where we took the album and split it up into standalone singles.
That album project was then scrapped, but, we do plan to include a couple of those singles onto the new album as some of them fit within the new album's narrative.  
However, there is one major obstacle… currently a six-month wait on vinyl manufacturing.
So, we are going to have to get creative and pivot back around to the album. To do that we are releasing two EPs and several singles to help bridge that gap. But, we will be offering album teasers throughout. Most notably with When You Were Mine which is the first single to be released from the album. 
Getting to know The Rising, Chantelle and Chris 
Tell me the story behind When You Were Mine?
When You Were Mine has a long life story. It actually started off as a traditional Country ballad with strings, pedal steel and everything. But it soon became apparent that the tone of the music did not fit the tone of the lyrics. So, one day I happened to pick up a guitar that had lots of distortion on it and played a really fast tempo version of the chord sequence.
Something clicked and the song felt like it had found its home. It taught us the lesson that you have to let the song guide its own path and not try to force it into a certain genre. 
Lyrically, we had been trying to fit an artist/song reference into a song for years. Kind of a songwriting challenge we gave ourselves. Eventually, we came up with the idea of an event happening whilst David Gray's 'Please Forgive Me' played in the background. Hence the lyric:
"David Gray playing on repeat and there's lighting running through my veins."
Then we wrote a mini screenplay of a story happening and that informed the lyrical content. The premise of the song is about what happens when the line between best friends and a relationship starts to blur and the lines are crossed. Will it ruin everything or is there a way out. That idea fascinated us as we love adding what we call the third dimension.
Instead of, I love you and you love me. What happens if you add something else into the mix. So in this case the catch is, what if the characters are also best friends. 
 The re-recorded version of the song was recorded in only two days in order to capture the energy and raw excitement in the song that fitted the lyrical content.
What does country music mean to you?
To us country music is just part of our DNA, we can't escape it. No matter how hard we tried to rebel growing up.
Chantelle's Mum was a line dance teacher in the '90s and she was pregnant with Chantelle whilst attending a Garth Brooks Concert.
Whereas, my Dad was a country singer from the '70s onwards. So, I grew up surrounded by vinyl records of Red Sovine, Merle Haggard, Marty Robbins and Johnny Cash. I tried to rebel and got into rock and pop music. Then I stumbled upon the Eagles and The Byrds' Sweetheart Of The Rodeo album and that led me to the world of country-rock and back into country music.
Chantelle's journey is similar. Rebelling against country into rock, pop and anything that has good vocals eventually, falling back into country.
Many people who have followed our music say that they don't know what is coming next. Personally, we love that. This is informed by our love of music in general and the country music that is built into our DNA
How excited are you to play at The British Country Music Festival?
We have had many artist friends who have played the festival previously tell us about how great it is.
So we are super excited that we have a slot this year and show people what we are about. We have never been to Blackpool so we are excited to spend the weekend at the festival and take in the sights.
We have a run of shows this summer with our full band, but our set at TBCMF is back to basics as a duo.
Anyone who has seen us as a duo will know that we are not the kind of act that wants people to sit in quiet reverence. We will be trying to get people to ditch their seats, move closer to the stage and make as much noise as they possibly can.
Quite simply we can't wait to rock the festival – in a country way of course.
Getting To Know The Rising
Thank you so much to The Rising for their time, a great interview and wise words. We can't wait to host them at the festival.
We agree and believe that there is a lot that needs to be done in the UK country market if artists are going to thrive and progress.
In the next few years, we anticipate a degree of change in the overall perception of British acts. We expect that there will be some kind of shift in the existing social media channels toward UK country artists. When this happens, we believe that it will have a ripple effect on how audiences perceive country acts around the world.
In conclusion, we know that the UK and US country music scenes will always be best friends, but the relationship can and should become equal and equitable. Without justification, the value of small or mid-level UK bands is seen as inferior by many audiences when compared to a similar US act (and this doesn't just apply to audiences, this applies to promoters, radio stations, record companies, and festivals).
In all other music genre markets, the UK is revered because of the fact that it's developed a unique sound that millions love. We must break our own glass ceiling