Review
From its acapella start, 'Lightening Strikes' builds to a catchy rhythm that has more rises and falls than a quickstep. The clever chorus is punctuated with effective tacets, giving it that traditional country sound that will stay with you long after the song is over.
Although not 100% homegrown, it would be churlish not to include this new remix of 'Lightning Strikes', from The Shires featurng Lauren Alaina on this weeks' reviews.
Proving beyond doubt that lightning does strike twice.
The Shires have come a long way since the duo's formation in 2013 and what I have always loved about them is their focus on lyrics that are relevant to their British roots. There is no doubt that they were the first to make the biggest impact in creating a unique, British country sound that has gained respect from Nashville.
No copycat American references to cowboys and open plains from The Shires in their music. Instead, they sang about G and T's and how "We can build our own Nashville under these grey skies,"…. and they have.
Brave and bold and that is what has led to them being the first British country act to have an album in the top 10 (followed by two more) and to be recognised by the Nashville based Country Music Association with the duo's first award.
This track is a clever partnering both vocally and commercially with multi award-winning and Platinum selling American country singer Lauren Alaina, that will certainly help The Shires to make their mark across the pond as well as in the UK.
The brilliant harmonies between Lauren, Chrissie and Ben complement one another beautifully. Lightning Strikes was written by three American writers; Camaron Ochs, Evan Bogart and Josh Bruce Williams and consequently has a more American feel than is usually associated with most of The Shires' previous work.
Their album 'Good Years' is an apt title for where Chrissie and Ben are currently in their career, having made a significant mark on the UK music scene with airplay on mainstream commercial radio, including BBC Radio 2.
However, this single makes it clear that The Shires are hoping for similar success in the States, but let's hope they retain that Britishness and individuality that secures their status as amongst the best of our homegrown talent.
Martin Blore (The British Country Music Festival @TBCMF)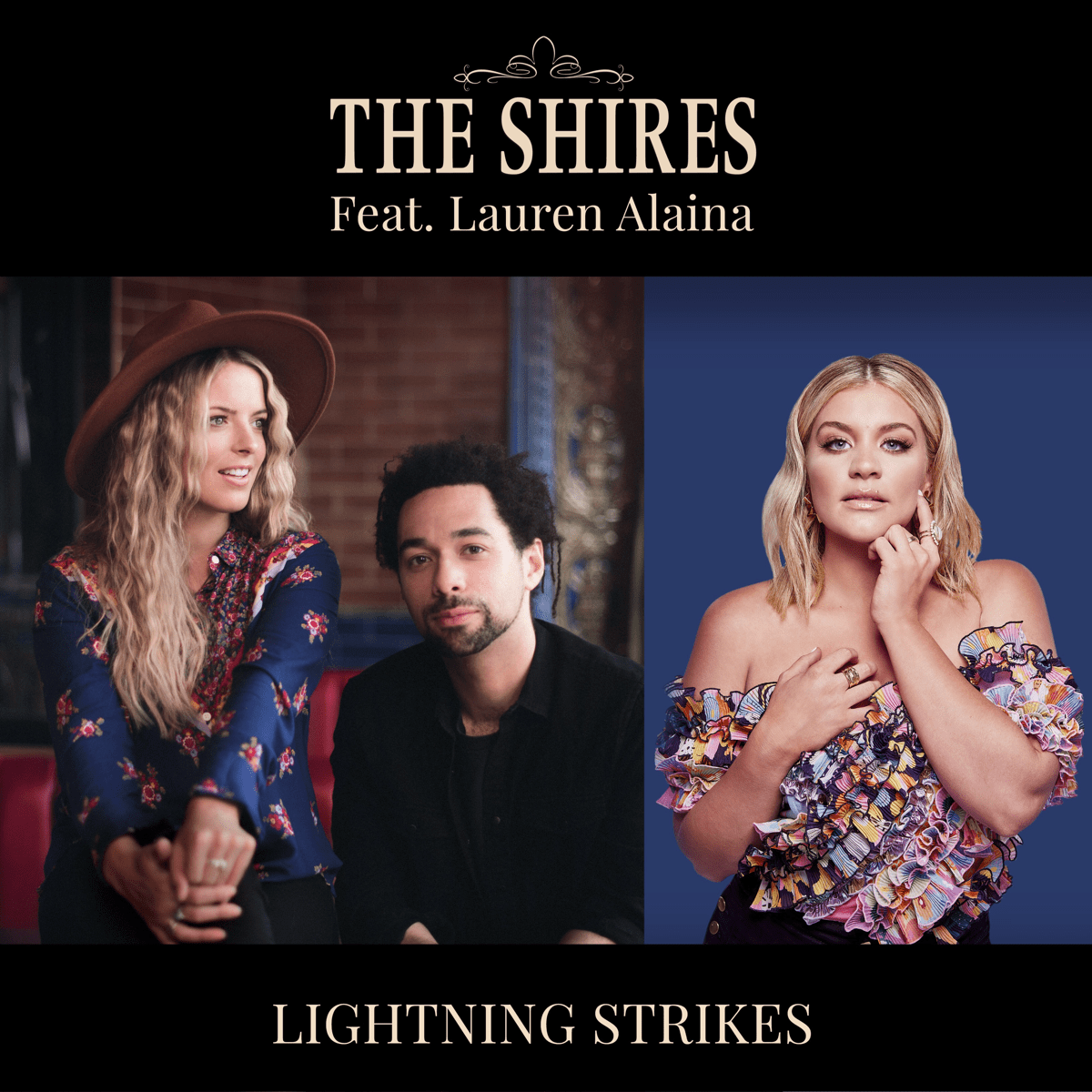 Credits
The Shires feat Lauren Alaina | Lightning Strikes
Credits
Performed by The Shires, Lauren Alaina
Written by Camaron Ochs, Evan Bogart, Josh Bruce Williams
Produced by Lindsay Rimes
New UK Country Music Guide
We listen to roughly 20-35 new releases a week from UK artists in the contemporary country & Americana genres. Including the lovely sub genres of  Alt Country, Country Pop, Country Rock, Country Swing, Country Soul, Bluegrass, Country Blues and Folk. 
Out of those songs we will choose 7 songs that have grabbed us and celebrate them here.
We have a spotify playlist of all recent relased songs by UK artists please follow and like the link below.
TBCMF will continue to bring Country fans and artists together to celebrate the unique spirit and sense of unity that is at the heart of what our festival stands for.
Please let us know what you think about the songs in the comments below.