Innovative Ideas
Although live music still remained on the back burner, the month of August did manage to deliver some outstanding records from our favourite British country acts, as we closed out summer with incredible new songs and visuals from the leading talent across the British country and Americana scene.
The Wandering Hearts in particular came up with an innovate idea to get around current restrictions by confirming that they would be touring the UK and performing at bandstands across the country's parks and recreational spaces. A hugely popular idea and COVID secure with mandatory social distancing rules in place and outdoor air to keep the space clean from Coronavirus.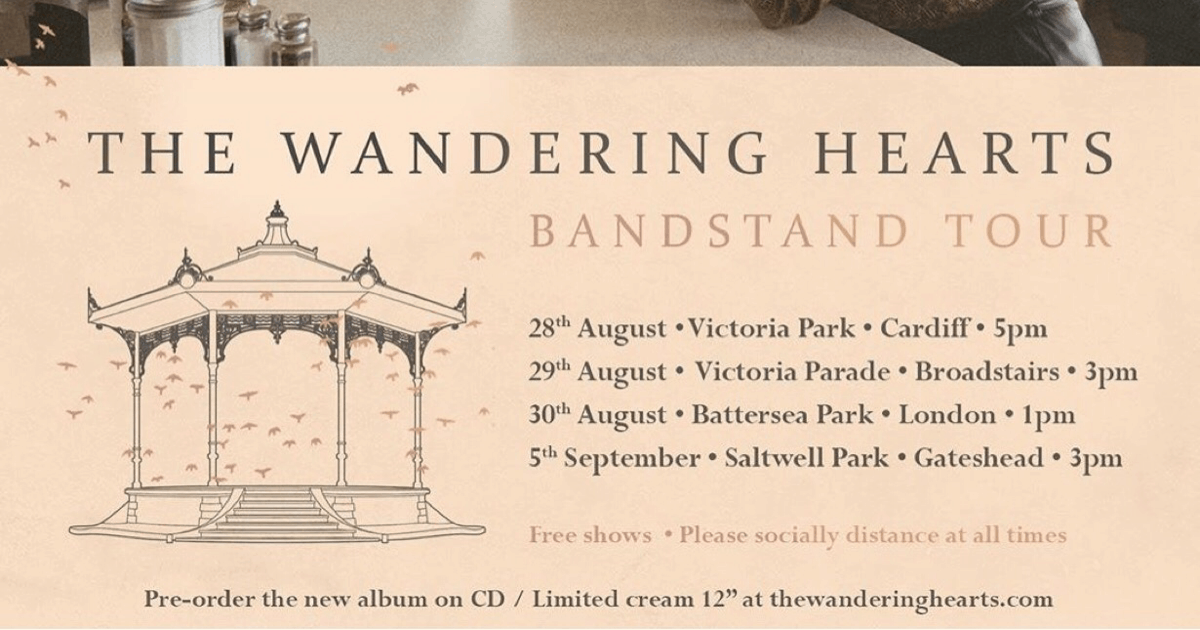 Twinnie's Bottomless Brunch
Meanwhile, live music shows signs of returning to "normal" with Twinnie being booked for Country Bottomless Brunch in London on September 19th with two sessions taking place on the day and socially distanced seating to ensure the safety of everyone involved. It will no doubt be a strange gig, but will offer a much-needed dose of live music and will act as a wonderful base for how venues can put on shows safely during the pandemic.
Twinnie also continued to shine further during August with her 'Whiplash' video racking up 10,000 views in less than four days and the clip also being supported by ITV show Lorraine, while the stunning acoustic release of the song shone a light on the York performer's outstanding vocal control. She also delighted fans with a breathtaking live set for Haley and Michaels' virtual 'Drinking About You' UK tour.
Virtual Touring
The Adelaides also had a great month, launching their virtual tour as they performed across various platforms with the shows continuing into September. This looks set to be a brilliant venture for the girls as they ready their debut album for release next year.
Country-pop duo Ward Thomas meanwhile continued to promote their forthcoming 'Invitation' LP with the gorgeous acoustic release of lead single 'Sweet Time', and also the outstanding new single 'Meant To Be Me' which features a brilliant use of the mandolin and offers a delicious taste of what's to come off the new record this October.
Emma Steven's Jumps In
Rising talent Emma Stevens also delighted fans by confirming new music is on the way at the start of September, with 'Jump In' acting as the stellar launchpad for her newest album which is slated for release early next year, giving us all something to look forward to.
Bob Harris and friends create Stand By Me
 One of the most exciting parts of August came courtesy of Bob Harris though, with the legendary broadcaster celebrating 50 years at the BBC he confirmed that he has put together an all star version of 'Stand By Me' which drops this October with all funds going to Help Musicians. The single will feature an array of talent such as Twinnie, Laura Oakes, Ward Thomas, Sam Palladio, The Shires, Darius Rucker, Sam Outlaw and many, many more.
Crazy Days for The Shires
The Shires also shared the stunning visual for their newest and very timely single 'Crazy Days' which offers a message of hope and light during these tough times and delivers a beautiful visual that brings the lyrical story to life perfectly.
But although we had some outstanding musical releases from UK talent the most exciting bit of news to come out of the month has to be the fact that latest figures released by the industry show that during lockdown the genre of country music grew in populratiy like never before with its listenership having grown by 40%. This is a huge stat for the industry and showcases that the genre is only set to grow in stature as we move towards the end of the yea

Laura Klonowski
Author
I am a music journalist based in Wales, focusing on country music and I have been a part of the industry for several years. I have a deep love of promoting talent across the genre and enjoy seeing good music succeeding. My writing style is focused on news features, reviews and interviews and always looks to promote and shine a light on the incredible artists we are lucky enough to have across the country scene.